How to Impress a Single Ukrainian Woman on a Date: 15 Real Tips
If you're wondering what you should do to impress a Ukrainian woman during your first real-life date, it means you've already got her interested in you and it's already praiseworthy. Although there are a lot of single Ukrainian ladies, most of them stay single because they are looking for a compatible partner. If a Ukrainian girl agreed to go out with you – whether it happened after a long period of online dating or after you approached and met her while being in Ukraine – you're lucky one. Now, you want everything to go off without a hitch and it's absolutely understandable. In order not to let cultural differences or any other factors stand in your way, you need a quick guide to dating single Ukrainian girls. Here are 15 useful tips and tricks that will help you win her heart and secure a second date with her.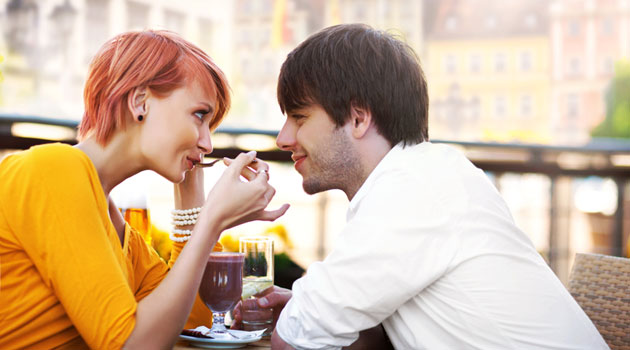 Bring flowers. According to the norms of Ukrainian dating etiquette, a man should always bring flowers, especially if it's the first date. In the summer, a small bunch of field chamomiles will be a great option. A single red rose is timely in every season. Perhaps, you've heard that in Slavic countries the bouquets should contain the odd number of flowers. By bringing flowers for a woman, you show her your romantic intentions.

Dress sharp. You must have already noticed that Ukrainian girls pay much attention to their appearance and they look really stunning. You should also know that they are attracted to those men who can dress with taste. So, choose appropriate attire for the date with a Ukrainian woman in order to make a good impression on her.

Smell good. Man's perfume is a part of his image so make sure it's a nice fresh scent. Some men apply too much cologne and make people around suffocate. So apply it moderately.

Choose a romantic place. Even if you don't know the city as the back of your hand, you should choose the venue for your date. Women hate when a man asks a woman where she wants to go at the beginning of a date. Men should always have a plan and prepare everything beforehand. Browse the Internet to find some cozy romantic cafés or small restaurants in the area and take your date there.

Greet her in an old-school way. Ukrainian women love all those old-fashioned manners so by kissing her on her hand as a sign of greeting, you'll pleasantly impress your date.

Compliment her. Compliments are always welcome if they go from the heart. Right after greeting her, say something nice about her appearance. It should be a light remark (as if by the way) such as a comment on her accessory or dress. Don't bombard her with compliment right from the start – this will make her blush. Leave your words of admiration for the evening.

Be confident. All women find confident men very attractive and sexy. Even if you're a rather shy person, try to act and speak with confidence. Control your body language and voice: move naturally, keep your posture, and speak in a steady voice. The main thing is not to mix confidence with overconfidence. Ukrainian women can't stand show-offs.

Act naturally. It's very difficult to pretend in front of Ukrainian women since they detect insincerity with the naked eye and it really turns them off. If you go out of your way trying to make an impression on your Ukrainian date, you'll only spoil the things. Of course, you want to impress her, but focusing only on this aim you take the risk of coming across as boastful (if you can't stop mentioning your career achievements and financial status). No matter how trite it may sound, be yourself and don't try to make an impression.

Demonstrate your sense of humor. If a Ukrainian beauty agreed to have a date with you, then you must have charmed her with something. If it was your sense of humor, keep making her smile. Women immediately fall for those men who can joke and do it skillfully. Avoid vulgar jokes and remarks and show your wittiness and intelligence.

Keep the ball rolling. Although Ukrainian women always have something to say, make sure you're a leader in your conversation. It means that you should introduce new topics and fill in awkward silences. Avoid topics related to politics and religion as well as small talks about the weather. If you can't find a new subject, there are some ready-made questions that are always appropriate. You can ask her about her interests, recent travel experiences, family, pets, job, etc.

Maintain eye contact. If you look the woman in the eyes, it means that you're interested in what she is telling you and that you feel comfortable in her company. Don't stare and don't look away once your eyes meet.

Talk about your nearest and dearest. Dating a Ukrainian woman you should know that Ukrainians love their families most of all. Tell her some stories featuring your siblings or nieces/nephews – it will demonstrate that you keep family ties. She wants to know what role the family plays in your life, so don't miss the opportunity to mention your relatives in your conversation.

Avoid tabooed topics. Apart from knowing what to talk about, you should be aware of the subjects that shouldn't be touched upon on a date. First of all, avoid talking about your exes – don't ask her about her previous relationships and if she tries to initiate this topic, try to change the subject. Also, Ukrainians don't talk about sex and other intimate matters openly, so in order not to confuse your Ukrainian date, stay away from that subject.

Act gentlemanly. If you date a girl from Ukraine, you should be courteous to her in order to make a good impression on her. For this, show your good manners, be attentive, hold the door for her, offer your arm while walking, and pay for dinner if you ask her to a restaurant or buy tickets if you go to the theater.

Show your respect. Any woman wants to be praised for her achievements. Ukrainian women are beautiful, smart, and talented and they want to hear the words of appreciation from their men. Once your date mentions her hobby, career, or some other aspect of her life in which she succeeded, express your genuine interest in it and say some encouraging words.
There are no comments. Your can be the first