How to Approach a Girl at the Gym
Of course, the gym is meant primarily to training. However, who said that you cannot get acquainted with interesting people there? You have an opportunity to watch a person for a while and identify both their advantages and disadvantages. Fitness center is a much better place to make acquaintance with a girl you like than a street, public transport, and even the Internet. Moreover, many happy couples have met each other in the gym.
So, how to get acquainted with a girl in the gym so as not to regret a failed attempt? How to approach a girl and what to say her? How to remain confident? Today, we are going to give you some useful tips on how to approach a girl you like, how to talk to a girl in the gym, and what mistakes you should avoid.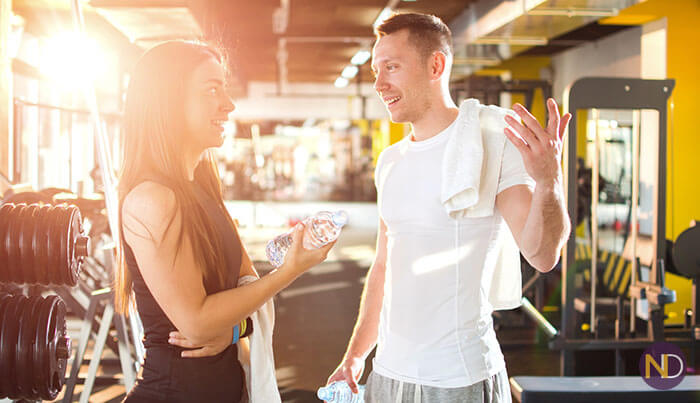 Why You Should Try to Approach Girls in the Gym
Before approaching a girl at the gym, you should decide what your prospects are and whether you need it at all. So let's discuss the advantages of such an acquaintance. First of all, you can meet single women, people of different ages and professions who take care of their bodies. So, there is an opportunity to communicate with interesting people in a relaxed atmosphere. Let's find out why many experts in relationship building consider gym a good place to make acquaintances.
Reason 1. Like-mindedness
All girls at the gym have common interests, similar to yours, i.e. there is at least one point of contact with a girl you like. Thus, it will be easier for you to find a common language.
Reason 2. Genuine beauty
The gym is not a club or a bar, people are mostly natural, there are no pathos and external attributes of "coolness." In contrast to popular dating on the Internet, you see a person with all their pros and cons. The gym shows girls without embellishments because they do not wear high-heels, bright makeup, and lots of jewelry.
Reason 3. A wealth of choices
Every day, the gym is visited by a good deal of pretty and well-groomed girls. Coupled with the absence of outer clothing, and thus, better visibility of beautiful shapes, you can choose a girl who matches your liking best of all. It's not about looking at pictures of single girls, they are all here.
Reason 4. No need to look for a reason for making the acquaintance
You do not need to make up a reason to approach a girl, as the acquaintance may suddenly strike up by itself.
Reason 5. Willingness on behalf of girls
In almost any gym, some girls do not mind making new acquaintances and are even ready to take the first step. They just need a reason or a hint from your side.
Difficulties you may face when approaching a girl at the gym
Approaching a girl at the gym has its drawbacks. So, you should be ready for such difficulties in advance:
a girl already has a loved one or even a family;
competition with other men. After all, you are not the only one who is handsome and sexy in this gym;
a girl goes to the gym just for benefit of a healthy body and good shape, so she does not want to make new acquaintances at all;
wrong behavior with girls, which leads to failure;
discussion of your candidature with her friends and search for your shortcomings.
Common Mistakes Guys Make When Talking to Girls at the Gym
Now let's consider the main issues that can scare any girl away from you. In other words, remember the following postulates if you do not want to spend the rest of your life in proud solitude.
Acts of harassment
Pretty girls know they look good and like to draw men's stares. Therefore, it is not necessary to monitor every step of a young lady, and even more so, you should not constantly be in front of her, waiting that she will pay attention to you. Girls do not like too assertive men. So, do not lose your head and grovel before a girl you like.
Unwanted advice
A woman loves with ears, it is a fact. However, it does not mean that you can fill her head with nonsense. In particular, it concerns advice from third parties. Girls don't mind external assistance and useful advice (for example, on the exercise form), she just needs to have а clear idea of who you are. If you are her peer (in terms of training results and sporting experience), then she is unlikely to listen to your advice and pay attention to you.
Inappropriate moment
Girls are shy creatures, they love comfort, beauty, cleanliness, and neatness. For them, the very staying in the gym is already some kind of stress – exhausting exercises, sweat, faulty makeup and so on. In a word, they are far from being on top of the form. Therefore, you should not approach a girl right off the bat, i.e. when she is not "on the full alert." Cool your jets, wait for an opportune moment, and act!
There is one life hack: try to establish non-verbal contact with a girl you like before moving on to verbal communication – look at the girl more often and beam upon her.
"So-so" compliments
Many guys do not know how to attract a lady and begin to shower a girl with compliments in regard to her shapes. This is unacceptable, and any self-respecting girl will let you go hang. So, get rid of vulgar compliments and stock up with the smart ones. You can praise her for the desire to change herself and say that you would like to see such a person next to you.
I'm a macho man!
Girls feel false and deceit from far off, so behave naturally and do not try to embellish your achievements. A frequent mistake of many guys when approaching a girl is to take on a different persona – a pick-up artist, a brutal strongman with mega-experience, or an owner of ships and airplanes. If a girl is not looking for a sponsor, then she will not attach much importance to such facts. Therefore, you should not lay yourself out, inventing non-existent regalia.
Untidy appearance
Many men do not know how to approach a girl for the first time and meet with failure just because of the untidy appearance. Since a girl sees you in the gym for the first time and has no idea that you are a brainy guy, she makes her first impression precisely by your appearance. Women pay a lot of attention to their clothes and are quite sensitive about the appearance of others. Therefore, if you decide to approach a girl, then, first of all, you should look over yourself from clew to earing. Your clothes should be neat, clean, and suitable for the gym.
How to Approach a Girl in the Gym
Getting acquainted in the gym is no more difficult than in other public places. There is a wide choice of beautiful girls who do not mind communicating and get acquainted with a sporty young man. If you have a clear plan of action, then you will feel more confident while making an acquaintance at the gym. So, we would like to bring to your attention 8 tips on how to hit on a girl at the gym.
Define whether a girl is open to new acquaintances
Headphones in the ears is a clear sign that a person does not want to be bothered by others. Many people do not perceive the gym as a place to make acquaintances and socialize, they are closed and try to abstract themselves from others. It will be hard to get acquainted with such a person. So, focus on the open girls, who look at what is happening around with interest and are easy to get in touch with others.
Visit the gym regularly
Most probably, a girl you like goes to the gym at a certain time. So you should come to the gym at the same time. Let the girl get used to you and see the familiar face more often, you may even begin to greet each other. Let her understand that you are here to work on your body and improve yourself. You should always be there when she comes and most importantly, keep yourself in the foreground. But do not be an eyesore: girls hate it.
Groom yourself
Of course, the gym is not a dancing party, where everyone comes in dresses and dinner jackets but a place for training. However, if you decide to make an acquaintance with a girl, you should look decent:
choose a beautiful and clean sports outfit instead of old joggers and shirts three sizes larger;
shave the beard and do your hair;
girls do not want to communicate with a guy who smells as if he spent the night in a kennel. So use an antiperspirant to smell nice;
if you decide to get acquainted with a sporty girl, then be so kind as to look appropriately – take care of your body.
Establish a sight contact
The glance is very important for girls. But do not try to stare at a girl you like: it is somehow... frightening. The connection with girls cannot be established with a nod, friendly look, and even a smile. It is established by the eyes. You should glance at her and quickly look away; also try to be in sight of the object of your adoration. After a while, you will notice that she glances at you too. But most importantly, do not overdo it, otherwise, you will scare a girl away. Do you want it?
Choose the right time for acquaintance
Most girls go to the gym to work on themselves. However, there are a lot of single women who do not mind starting a relationship with a person who also adheres to a healthy lifestyle. However, no one girl will like it if you approach her during an exhausting training activity when she does another cardio or lifts the bar. She is very concentrated at this moment, and here comes some guy bothering her with foolish questions – such behavior can cause only irritation. Girls don't mind talking with you when they stretch out or finish the training. Also, a girl is not averse to exchanging a few words between the series of exercises. After all, she is in a relaxed state, and therefore, ready to talk with you. It is one of the best advice on how to approach a random girl at the gym.
Be yourself
This banal advice means that you should not pretend to be a mega-muscleman or a pick-up artist. The easiest way to get acquainted with a girl is to approach her and say, "Hi!" But don't forget to smile! Just be yourself, girls appreciate sincerity and honesty. If you have a good sense of humor, use it! It is one of the best ways to attract a girl you like.
Be careful with the compliments
Do not know how to talk to a girl at the gym? First of all, do not use banal phrases. It is best to praise the sporting achievements or attractive body of a girl. But you should learn how to pay compliments properly. It is best to associate a compliment with workouts, gym, and a healthy lifestyle. What to say to a girl at the gym? For example, ask where she bought such a great training suit or say how elegant she looks on the exercise machine. In any case, make sure that the compliment is not vulgar. At the same time, you should smile sincerely – this is a sign that you are an honest person.
Give her time
The gym is a hobby that quickly becomes a habit. In the process of physical exercise, the body produces hormones of joy, and the sense of self-conviction causes people to be confident that each workout makes them better. It is for this reason that girls rarely abandon the gym if they go there for a long time. So do not rush things if you saw a beautiful girl at the gym. Give her time to get used to you and follow the above-mentioned tips. After a while, you can invite her to a cup of coffee or take a stroll in the park (it's up to you). But remember that you should not be persevering. If she agreed to your proposal – good job! Congratulations! The main thing has already been done, now everything depends on you.
Final Thoughts
Sport is a great point of contact. After all, if you have something in common with a girl, it will be easier to keep the conversation alive and make the connection. Moreover, it is an opportunity to create long-term relationships based on common interests and a healthy lifestyle.
Although making acquaintance with girls is not an easy task that requires patience and determination, our advice will help you become more confident in yourself and approach a girl you like at the gym. Try it, and maybe you will meet your fate even today!
There are no comments. Your can be the first