How to Keep Your Girlfriend Happy in a Long-Distance Relationship
Quite often people can't build normal relationships. This is due to the crazy rhythm of life, but highly developed information technologies help to deal with this issue. But sooner or later the question arises: are relations possible at a distance? Yes, there are. They can be bad and good like any other relationship. However, any separation is a serious test. When loving people are separated physically, this somehow affects their relationships.
The main key to a successful love story at a distance is to stay positive and optimistic. Don't listen when people tell you that such relationships are doomed. If you make some effort, you can keep them long and happy. And in this article, you will find tips on how to be happy in a long-distance relationship.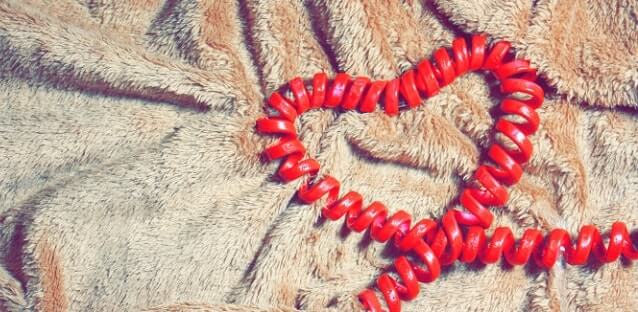 Do long-distance relationships work?
Relationships at a distance are not a new phenomenon. Even in the XIX century, there were brides by correspondence, who got acquainted and communicated with the prisoners through letters. Now they are replaced by messages, social networks, and Skype. But will these communication tools help preserve true feelings?
In many couples, there are periods when relationships have to be maintained at a distance. For example, someone's job involves regular business trips, someone on vacation has a romance with a person who lives in another city or even a country, someone gets to know his or her soul mate on the Internet and the beginning of a relationship starts on the Web. Relationships at a distance, like any other, have their own characteristics, advantages, and their problems, which, of course, everyone wants to avoid. However, there are some advantages of such relationships.
The advantages of a relationship at a distance
Partners miss each other. Many people face different problems and the freshness of feelings gradually disappears. But in the case of a relationship at a distance, every meeting is a holiday. The couple appreciates every minute spent together, trying not to waste time on trifles. So, their emotions remain bright for a long time. In addition, often partners simply dissolve into each other.
Partners have their personal lives. When a loved one is in another city, the other one is free to do whatever he or she likes: a person can have fun in the club, visit relatives, ride a bike and do many other things.
Partners don't have to allocate free minute to spend it together. A crazy schedule sometimes prevents people from paying enough attention to their personal lives, so there are so many single people among us. You are not alone if you know that you are loved. But in such a relationship, you don't need to rush to finish work and run through the city to catch your time for dinner.
Their communication is full of events. They don't talk every hour and don't control the movement of each other. So, when such partners are talking, they always have something to tell.
Partners are always in anticipation of something. Imagine how you will wait for the meeting, how your partner will appear on the threshold, how you will spend time, and how uncontrollable your sex will be. These are pleasant, incredible emotions that are familiar to people who love each other at a distance of thousands of kilometers.
How to make a long distance relationship work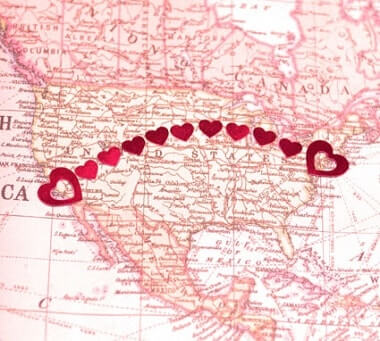 Love at a distance is always a test. But, if lovers endure it, it means that, first of all, their feelings are real and the desire to be together is unbeatable. Probably the most difficult thing in such relationships is to show trust in a partner. And, of course, it is difficult to reconcile with the fact that your meetings will be rare (but very bright and emotional). Try to look at everything from the positive side. It will help you reduce the distance between you.
Often communicate, but don't fight. You should never start serious conversations on Skype or on the phone. It will not lead to anything good. In addition, if you constantly provoke serious conversations, your communication will lose its ease. Feeling that a conversation with you may spoil the mood, your woman will try to limit communication on the Internet, and you'll think that she doesn't feel anything to you. And then everything is according to the scenario. Be wise and create an atmosphere so that your conversations will always be pleasant, interesting, and joyful.
Make each other pleasant surprises. The next long distance relationship advice is to surprise each other. No one canceled the parcels. Therefore, if meetings become rare for some reason, then send your girl a gift by mail. Don't forget about the sweet surprises that make our life bright and happy. This is one of the best ways of how to keep a girlfriend happy in a long-distance relationship.
Build only real plans. Dreaming about how you will live in a beautiful castle somewhere in the south of France is, of course, beautiful and pleasant. But it is much more useful to build real plans and clearly decide where you may live. After all, one of you will definitely have to change one's plans and move to a new city.
Cherish the time spent together. Try to make your meetings so pleasant and heartfelt that the memory of them warms you up. So, think about whether it's worth spending time on small quarrels, grievances, and bad mood if your loved one may go away tomorrow.
Share your experiences, events in your life and ask your partner about it. Social psychology convincingly proves that a sincere interest in another helps to overcome the negative effects of relationships at a distance. So, be interested in the life of your loved one because this is how to deal with a long-distance relationship.
Talk about your feelings. It is worth doing in ordinary relationships, but it is especially important at a distance. Say that you love and miss. Talk about sex, about your mutual desires. It is worth to be restrained in relation to "negative" feelings – jealousy, resentment, etc. so that your virtual meetings will not be negatively colored.
Talk more about what connects you. Despite the difference in lifestyle and occupation, your common goals, plans, interests, affairs, etc. should be discussed. This will make long-distance relationships work.
Trust your partner. Alas, any distance contributes to "destruction of moral standards" – it is not easy to remain devoted when you are far from a partner. But it is quite possible. Don't get carried away with jealousy, try to cultivate confidence in yourself and talk about it to your partner. After all, if your relationship is not of great value to your partner, sooner or later everything will fade away, regardless of distance.
How to keep your girlfriend happy in a long-distance relationship
We have some easy long-distance relationship tips to make a girl happy, but also these are very effective ways to make the distance in a relationship less noticeable.
Tickets
You should have plans for the next trip in advance. Love at a distance doesn't tolerate uncertainty. One of you should have a ticket for your next visit. This also can be one of the best gifts for long distance relationship. If you live very far from each other, choose a neutral territory, which is good for both of you. Let this country or city become your personal quiet harbor where you can hide from the rest of the world and become closer to each other.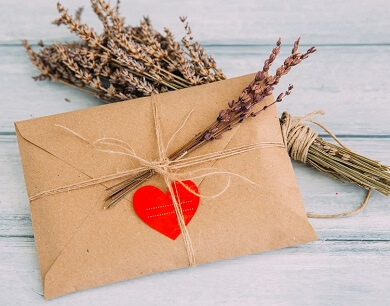 Letters
Most likely, you call every day and talk about what is happening, but letters should be different. Relationships at a distance need romance. Send postcards with poems and photos.
Tradition
Start a tradition – monthly, weekly or daily, what you find interesting and physically possible to do together, despite the distance. The most difficult and important thing is finding time for each other when each of you has a personal life. Among long-distance relationship activities are waking up at one time, a message with a "Good morning!", a candlelight dinner online, even a Skype call at a certain time may become your personal tradition.
Messengers
In the XXI century, a long-distance relationship is easy to maintain with the help of such applications and upgrades as Snapchat, Instagram stories, Viber videos or WhatsApp video calls. For those who want to be in touch, there are more than enough different possibilities. Share photos during the day so that a girl feels involved in your routine life, virtually acquaint her with friends, new things, and places where you are.
Focus
Long-distance relationships evoke a sense of inferiority of private life. The focus shift will help you. Do something very useful all the time spent without a loved one. Pay attention to work, studies, sports or hobbies. Get to know yourself as a person, pump yourself both physically and emotionally, work on your relationship even at a distance.
Long distance relationship problems
The biggest difficulty in a relationship at a distance is to remain part of each other's lives. A funny case at work, an incident at the parking lot, a small adventure in the grocery store – all this, as it may seem, doesn't matter and may be completely forgotten a week later. But when you live with a close person, the feeling of kinship and a sense of belonging to each other's life arises between you. And now one life for two is divided and such problems as incompleteness, the disorientation of feelings, and vague prospects for a joint future begin.
Lack of communication
This is the biggest problem of a long-distance relationship. Such relationships are transformed into a text-voice, which makes them somewhat flawed, especially when a couple kept in touch and saw each other every day until separation. In our modern age, of course, there are a lot of alternatives to live communication: smartphones, text messages, video calls, social networks, but they still don't fully perform the functions assigned to them.
Impossibility to discuss problems of a relationship
People who are geographically far from each other can't quarrel and then calmly reconcile as it is available to other couples living in the same territory or in the same city. In a situation where one ignores phone calls and messages, the other can't run to him (to her) any minute to solve the problem. Therefore, each quarrel can become the last one.
Loss of trust
Many relationships end because of lack of trust. After all, there is no chance to check if a loved one deceives you. Confidence in relationships largely depends on a person, on his/her previous experience of romantic relationships, on the model of behavior and, of course, on how jealous a person is. If, for example, your girlfriend really likes to flirt, then you can face real problems. And even if such behavior is not characteristic of your loved one, then the fear of cheating can still lead to the collapse of relationships at a distance under the weight of suspicion.
There are no comments. Your can be the first